General Terms and Conditions
Battery Directive
Batteries must not be disposed of with other household waste. by law You are required to dispose ofrechargeable and non-rechargeable batteries properly. To this end you can hand in your old batteries free of charge at the public collection points in your community or anywhere that batteries are sold. You can also return used batteries to us at the above address. We will then dispose of these for you properly and at no extra cost. Batteries containing hazardous substances are marked with a symbol consisting of a crossed-out wheelie bin and the chemical symbol (Cd, Hg or Pb) of the heavy metal crucial in determining the battery's toxicity.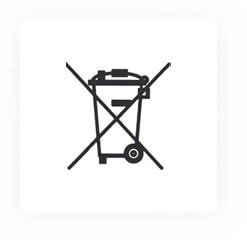 The wheelie bin symbol means:
Batteries and accumulators must be disposed of separately from household waste.
The symbols below the bin signify:
Pb: battery contains lead
Cd: battery contains cadmium
Hg: battery contains mercury
Terms and conditions
Data privacy statement
Terms of delivery
Payment methods
Battery Directive