---
Sort by:
Top sellers
New
Price ascending
Price descending
Filter
---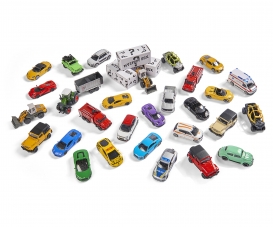 Street vehicles
30 + 3 Discovery Pack
€56.99
Majorette 30 + 3 Discovery Pack: Surprise guaranteed!The 30 + 3 Discovery Pack comes in a practical storage box in the shape of a tool kit. It is the perfect addition to the Majorette range and comes with 33 different vehicles. In addition to cool racing cars from  Audi, Porsche and Lamborghini, you will find SUVs and road vehicles from Chevrolet, Renault, Jeep and Citroën. The large collector/starter set also includes the classic VW Beetle from the Vintage range and is designed for children aged 3 and above. Also included are essential utility vehicles such as a fire engine, police car, ambulance, tractor and a digger. Some of the vehicles feature moving parts that can be opened. In addition, each box contains a surprise with 3 exclusive Super Special Cars. Discover the diverse range of Majorette vehicles with this exciting new Discovery Pack!
More
New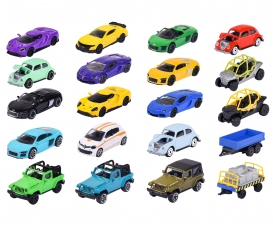 Street vehicles
20 pieces Giftpack
€32.99
Majorette 20 Pieces Gift Pack The ultimate gift for collectors! Featuring 20 different models, the Majorette 20 Pieces Gift Pack makes an ideal starter or extension kit for toy vehicle collectors. The box has a screw-nut shaped handle and doubles up as a storage box. It contains 20 different die-cast models from the Majorette Street Cars, Vintage and Explorer range. The lovingly designed vehicles include a diverse range of models from the motoring world. In addition to classic models, there are also racing vehicles, off-roaders, trailers and beach buggys. Some of the vehicles feature moving parts that can be opened. With such a diverse range of vehicles in one box, this gift set is a must-have for Majorette fans!   
More
New