---
Sort by:
Top sellers
New
Price ascending
Price descending
Filter
---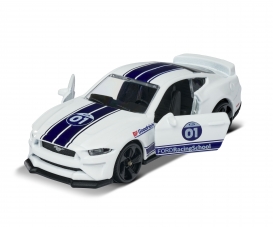 Racing vehicles
Racing Ford Mustang GT
€3.99
Majorette Racing Ford Mustang GT: A perfect toy for exciting street duels! Regardless of whether on a Majorette Racing Track or the carpet of the kids' room: It only gets really fast with a Majorette Racing Ford Mustang GT. This freewheel toy vehicle has a die-cast housing which guarantees hours of playing fun! The miniature car is modelled on the original Ford design. This means that any famous race can easily be reenacted at home. A collector's card provides information about the car's technical details.  
More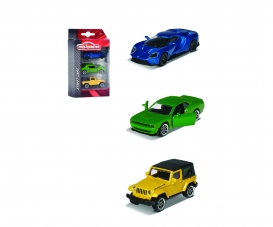 Street vehicles
Street Cars 3 Pieces Set, 1.asst.
€8.49
Majorette 3-Piece Set: the set for explorers! Since it was founded Majorette has made a name for itself in collectors' circles and children's imaginary play worlds with high-quality models of the most popular road cruisers and racing cars. A toy car from the Majorette Street and Premium Cars Range is a fine addition to any collection with a carefully finished model boasting quality workmanship. The set comprises three lovely vehicles with some moving and opening parts. Each model car is based on famous makes and vehicle designs. Everyone is sure to find their favourite. A toy from Majorette offers lots of scope for play and lays the foundations of a car collection that can be continually expanded.
More