---
Sort by:
Top sellers
New
Price ascending
Price descending
Filter
---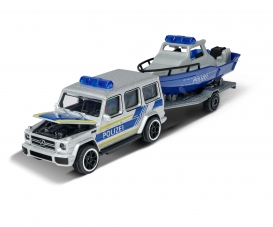 Emergency vehicles
Mercedes-AMG G 63 with police boat and trailer
€6.49
Majorette trailer play sets: city life is not neglected here! With the Majorette toy cars including trailers, children can expand their toy city with important building blocks, because they are the heroes in the city. Children can have fun with the Mercedes-AMG G 63 with police boat and trailer by Majorette. The original licensed vehicle and trailer offer everything you need if you love horses. Moving and opening parts provide exciting insights into the functioning and structure of the metal vehicles for children from 3 years.
More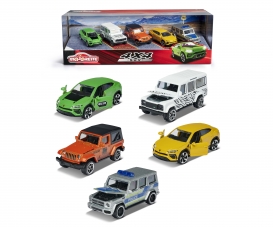 Premium vehicles
SUV 5 pieces Giftpack
€16.99
The Majorette SUV Gift Set — travel cross-country in style Off-road is where the driving fun really begins. That's the basic motto of this Majorette Gift Set with five different SUV toy cars on a scale of 1:64. Three lovingly crafted die-cast toy cars —under licence from Mercedes, Jeep and Lamborghini, and including a freewheel function — are complemented by two exclusive model versions: the green Lamborghini and the Land Rover Defender 110 Zebra. These are only available in this SUV gift set. Owing to their moveable parts and carefully designed interiors, these off-road toy cars' exceptional looks make them a valuable work of art in their own right. The set, recommended for children over three, is an ideal basis for a thematic collection and a perfect gift for collectors on the lookout for exclusive special models of famous car brands.
More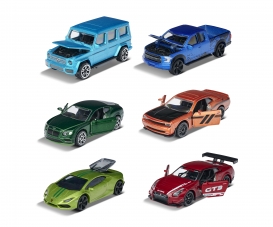 Limited edition
Limited Edition 7, 6-asst.
currently not in stock out of stock
More
New