---
Sort by:
Top sellers
New
Price ascending
Price descending
Filter
---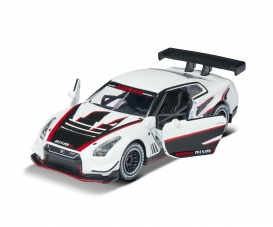 Racing vehicles
Racing Nissan GT-R Nismo GT3 Drift
€3.49
Majorette racing car: toys for exciting road duels!  No matter whether on a Majorette Racing Track or the carpet in the children's room: it only gets really fast with a Majorette Racing Nissan GT-R Nismo GT3. The toy vehicle with freewheel function has a Die-Cast housing which guarantees hours of fun! The miniature car is based on the original Nissan design. This means that every known race can be easily recreated at home. A trading card provides information about the technical details of the vehicle. 
More
New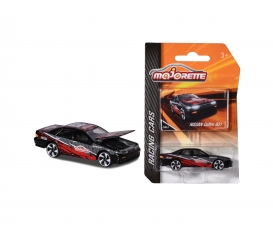 Racing vehicles
Racing Nissan Cefiro
€3.49
Majorette racing cars: toys for exciting street duels! Regardless of whether on a majorette racing track or on the children's room carpet: it only gets really fast with a majorette racing car. The toy car is equipped with freewheel and suspension and is originally licensed by Nissan. The racing car has moving parts. The hood that can be opened allows a view of the engine block. The racing vehicle comes with the well-known Majorette collectors card, which shows vehicle details. Little by little, a unique racing car collection is created.
More
New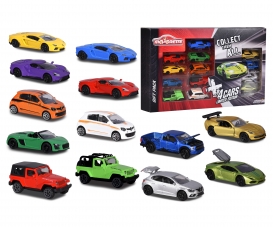 Premium vehicles
Giftpack 9+4 Limited Edition 7
€26.99
Majorette Limited Edition 7 - gift set with 13 small toy and model cars Years of joy in playing with your very own model car collection start right here! The Limited Edition 7 gift set with 13 toy cars motivates you to play and collect with great attention to detail! Car fans will be amazed. Equipped with a free wheel, wild chases at home are child's play! The high-quality metal bodies of the cars can withstand even the most adverse conditions - this gift set promises many years of fun and games! The 7.5 cm long toy cars are ideal for the Majorette Super City Garage or other parking garages. Attention model cars and die-cast collectors. In addition to a Renault Twingo, Lamborghini Aventador, Audi R8 Spyder, Ford GT and Jeep Wrangler, this toy car set also comes with four limited edition vehicles, two of which are exclusively available in this set in addition to the Lamborghini Huracán and the Ford F-150 Raptor are! The Chevrolet Corvette in fine gold and the funky Renault Megane R.S. complete this gift set and make it a must-have for every enthusiastic car enthusiast from 3 years.
More
New