---
Sort by:
Top sellers
New
Price ascending
Price descending
Filter
---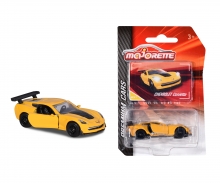 Premium vehicles
Chevrolet Corvette Stingray
€3.29
Majorette Premium range: Exclusive in every way! Majorette has an excellent reputation in collectors' circles. A Corvette toy car from the Majorette Premium range is a fine addition to any collection with a carefully finished model boasting quality workmanship. Each model car features moving parts so that you can look into the interior, and see the attention paid to recreating the detail of the famous full-scale versions. As you would expect from Majorette premium cars, this model also comes with a trading card that contains information about the car. Majorette toys are sturdily built and finished using a variety of processes. This ensures lasting pleasure for playing or as collectors' pieces.
More
New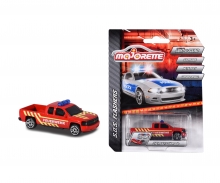 Emergency vehicles
S.O.S Flashers Chevrolet Silverado Fire
€5.49
Majorette SOS Flasher Chevrolet Silverado Fire Engine: even more play fun! How could the familiar Majorette freewheel toy cars with a high quality metal body be made even better? By adding light and sound features to them! The SOS Flashers Chevrolet Silverado Fire Engine raises the multifaceted nature of the Majorette toy cars to a new level. This emergency vehicle in a persuasive quality outfit replicates the familiar model Chevrolet Silverado in an appealing miniature format with a length of 7.5 cm. Thanks to blue light and a siren there is now even more Majorette play fun and the various Majorette play worlds become even livelier. The look of the vehicle corresponds to the German emergency vehicle.
More